Wanting to Support the Activities of Nurses at Amvis
Joining Us after Working as the Head of Hospital Nursing Departments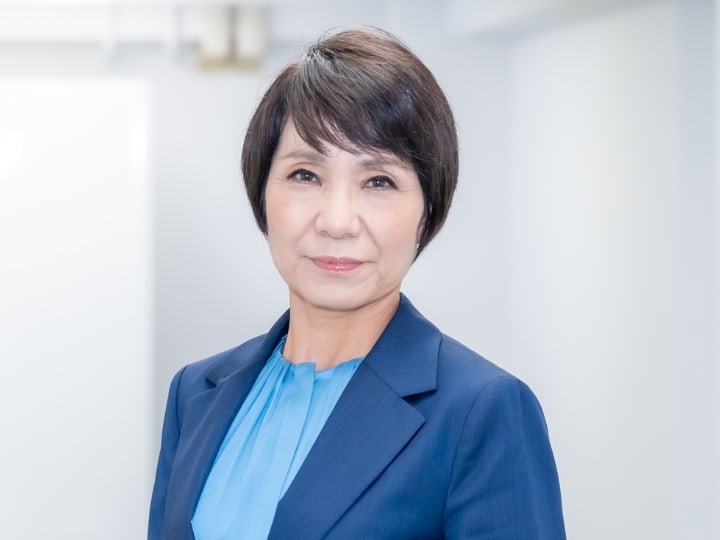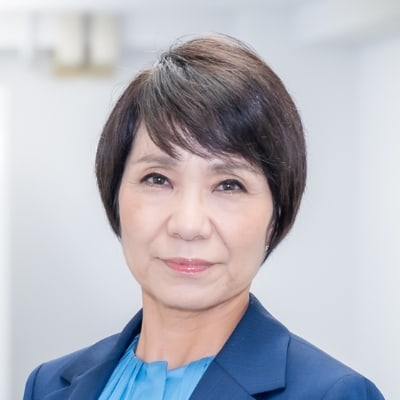 Head of the Nursing
and Care Department
Fukuko Oshiba
After working as a nurse at the National Cancer Center Hospital, Ms. Oshiba worked in management positions at the National Hospital Organization Tokyo Medical Center and the National Hospital Organization Mito Medical Center. Then she was transferred to the Ministry of Health, Labour and Welfare, and after that she became the head nurse at the National Cancer Center Hospital. She then chose to continue her career at our company. Currently, she heads the nursing and care department, which supports the operation of Ishinkan.
Amvis has a nursing and care department, which supports the operation of Ishinkan. This department provides many types of instruction to Ishinkan's nursing leaders. The department's activities include training nurses and caregivers and holding discussions with related parties.
Fukuko Oshiba heads the nursing and care department at Amvis. After heading the nursing departments of a national cancer hospital and a large acute care hospital, she chose to continue her career at our company rather than at hospitals. Explaining her rationale for the change, she said, "Nurses can and should play more active roles in post-discharge care, where needs are increasing. I want to support the activities of nurses at our company and contribute to regional healthcare."
How will the activities of nurses at our company affect regional healthcare? We asked Ms. Oshiba to share her thoughts.
Improving the Standard of Pain Relief at a National Cancer Hospital
Before joining us, Ms. Oshiba was proactive in her role as nurse at an acute care hospital. Her successes included helping to improve the level of palliative care at the national cancer hospital where she first worked. This was at a time when the importance of pain control in cancer treatment was not fully recognized among medical professionals. In the hospital wards, some patients were unable to sleep due to pain, prompting them to call nurses throughout the night. Other patients grew anxious and depressed due to pain. Palliative care, which leads to pain relief, was not widely available at the time.
Ms. Oshiba believed that by better understanding patients' needs and helping to carry out doctors' instructions on providing medication, nurses could contribute to more effective pain relief. With this in mind, Ms. Oshiba learned how to use medicines in palliative care. She shared this information repeatedly with ward nurses at study sessions.
Such efforts increased the number of nurses playing an active role in pain relief. The nurses initiated consultations with doctors, asking for additional painkillers to be prescribed in advance and calling for painkillers to be administered before examinations. With the help of anesthesiologists, more patients were able to get enough sleep with less pain.
After strengthening her skills at the cancer hospital, Ms. Oshiba moved on to hone her management skills at positions in several large acute care hospitals. Following a secondment to the Ministry of Health, Labor and Welfare, she returned to her initial workplace, this time as head nurse. In this role, Ms. Oshiba managed the nursing department's overall operations, including ward management, the personnel structure, and billing. She was also responsible for recruiting nurses.
After improving her skills and management abilities at the hospital, Ms. Oshiba chose our company as her next workplace. She said, "When I learned about Ishinkan through my job search, I immediately understood the high level of demand, and I felt strongly that I wanted to be involved in the operation."
This understanding came from Ms. Oshiba's experience of many cases where hospitals found it difficult to discharge patients. In acute care hospitals, the hospitalization period is much shorter. Even for cancer surgery, stays are only around 10 days. Necessary examinations are completed before admission, and after intensive treatment at the hospital, a system is in place to discharge patients as soon as possible.
However, it was difficult to discharge patients with high medical dependency who needed continuous nursing care. Nursing homes refused to provide medical care because they had no nurses on duty, and patients' families felt anxious about providing care at home.
No matter how many measures a hospital takes to coordinate discharge, if insufficient facilities are available to handle post-discharge patients with high medical dependency, the process cannot proceed smoothly. Nurses need to be more involved in post-discharge care. Ms. Oshiba's awareness of the problem led to her strong motivation to join us.
Centralized Operations to Improve Quality in the Facilities
When she actually joined, Ms. Oshiba was amazed at the internal operations in place to support Ishinkan, which had not been apparent from outside the organization. She noted that, "Centralized operations at headquarters function effectively, which helps to improve Ishinkan facilities."
Through its centralized operations, headquarters provides as much support as possible for Ishinkan staff. Various measures are in place to ensure the success of these operations.
One unique feature is that facilities' lead nurses communicate directly with headquarters, without going through additional management layers (such as area managers). This flat management style makes it easier for headquarters to quickly gather information from the facilities.
At headquarters, the nursing and care department gathers information. This department employs long-standing nursing leaders and experienced hospital staff, so it can respond quickly to various consultations from and issues at the facilities.
Specifically, the nursing and care department checks the information shared at each facility, fields e-mails and calls, and provides instructions and advice to nursing leaders so that they can take appropriate action. Members of this department visit facilities as necessary to provide guidance, increase the number of nurses and caregivers, hold meetings, and prepare manuals. Given the current situation, the infection control team (ICT) plays an important role in preventing COVID-19 outbreaks and the spread of infection.
If a consultation involves insurance systems or laws, the nursing and care department asks the compliance department or the payroll and legal department to handle it. Often, a headquarters staff member with specialized knowledge will take over such tasks from the facility staff. The accounting and finance department handles sales management, while the general affairs and IT department takes care of matters related to purchasing and systems.
"The hospital where I previously worked had a weak headquarters, so many issues had to be handled on site by the nurses and doctors. A centralized operation like ours makes it easier for staff working at Ishinkan to focus their attention on care," explained Ms. Oshiba.
Headquarters handles responses, rather than leaving them up to facilities. This arrangement facilitates quality improvements. For example, in the case of COVID-19, the nursing and care department created a policy and made sure that everyone was aware of standard precautions (standard infection prevention measures) and how to handle visits from people outside the facility. This helped to prevent outbreaks and the spread of infection.
Wanting to Support the Activities of Nurses at Ishinkan
Ms. Oshiba is clearly leveraging her experience to strengthen the nursing and care department, which she heads. Next, we would like to introduce some of the measures that are in place to improve the work of nurses, caregivers, and other frontline staff.
One of Ms. Oshiba's first moves was to promote recruitment and retention. For nurses, the main difference between Ishinkan and hospitals is that Ishinkan has no resident doctors. Therefore, nurses need to have certain clinical skills and take the initiative. "In hospitals, sometimes nurses ask doctors to make decisions even if they are capable of deciding for themselves. This is not the case in Ishinkan. Nurses must be independent," explains Ms. Oshiba.
During the recruitment interview, Ms. Oshiba assesses candidates' clinical skills and explains the appeal of Ishinkan and the role of nurses. She makes sure that both we and the candidate are looking for the same things. Even so, sometimes nurses are confused (particularly in the early stages of employment) by the absence of resident doctors at Ishinkan. We aim to address this situation by expanding our follow-up system.
In addition, we have enhanced the orientation for nursing leaders. We have expanded the orientation period from half a day to three days. This extended timeframe gives new nurses time to gain a good understanding of Ishinkan and the duties of nursing leaders before commencing on-site training. Oshiba said, "The nursing leaders are very important in the operation of Ishinkan. They have many roles to play: they lead the facilities, as well as being the key links between headquarters and facilities. By enhancing the orientation period, I aim to help our new people quickly get up to speed with their new duties by enhancing the orientation for new employees," she explained.
If more facilities are available in a region to receive patients when they are discharged from hospitals, hospitals will be free to discharge patients and concentrate on treating the next most seriously ill patients. "Opening and operating Ishinkan, which can accept patients with high medical dependency, can revitalize regional healthcare," said Ms. Oshiba.
As the population ages, the number of people with high medical dependency will rise, and the need for Ishinkan will grow further. "Post-discharge care has not been seen as a place where nurses can play active roles, but the need is very high. Our centralized operation provides an environment where facility staff can concentrate on care. As the head of the nursing and care department, I want to support the activities of the nurses at Ishinkan," Ms. Oshiba continued.
Some nurses are ambitious and interested in working in new fields. Ms. Oshiba advises such people to consider leaving their hospital for an organization like ours that is providing a new form of medical care. The new environment allows them to test their abilities and grow. We intend to create an environment where nurses can be active in a new way.