Hospice Business

We established Ishinkan based on new concepts of outsourcing physician functions and sharing hospital beds. Ishinkan is a hospice that specializes in chronic and terminal care, with an appropriate operational and personnel structure.
In order to meet the needs of people with high medical dependency and to help to alleviate regional disparities in healthcare, we are operating Ishinkan nationwide.
Background and mission of the business
Exhaustion and breakdown of regional medical care
With Japan's declining birthrate, aging population, and numerous deaths, a shift in national healthcare policy, and the depopulation of regional areas due to shrinking population, many regional hospitals are becoming exhausted, and some of them are experiencing management difficulties. These have become major issues in the Japanese healthcare industry.
Such hospitals provide regional medical care, providing outpatient care, detailed examinations, inpatient care, and emergency care, while facing a chronic shortage of physicians. This situation has led to a negative spiral of excessive workloads, forcing hospitals to reduce their medical services and making their management more difficult.
The exhaustion and failure of hospitals, which are the cornerstone of regional medical care, could lead to the breakdown of regional medical care. In addition, even though the country as a whole has an excess of hospital beds, secondary and tertiary medical areas sometimes have an insufficient number. This regional disparity in medical resources cannot be ignored.
When Keiichi Shibahara, the founder of the company, moved from his role as a researcher to become an entrepreneur, he assumed that these medical issues would spread to more regions in the near future. Accordingly, he decided that the "revitalization of hospitals and regional healthcare" would be the theme to tackle (see the "Message from CEO").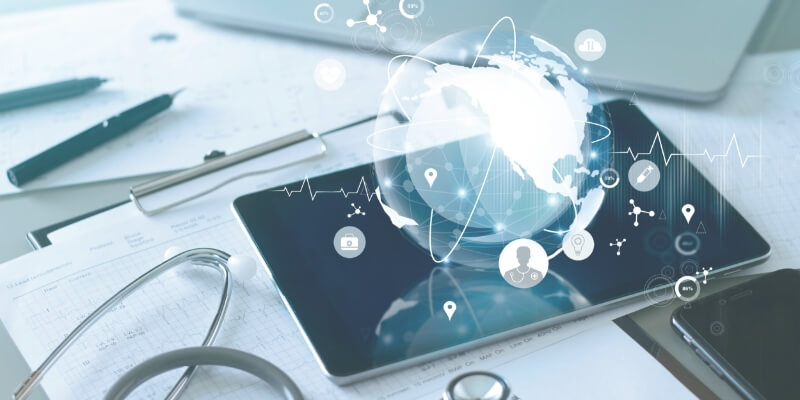 To achieve this revitalization, Mr. Shibahara came up with the idea of having in-home "hospital beds" with outsourced physician functions. By outsourcing the functions of physicians from hospitals that provide acute, chronic, and terminal care, we lower costs significantly by reducing such services as detailed examinations, outpatient care, and emergency care. This new-concept facility specializes in chronic and terminal care and maintains a satisfactory nursing system. The facility has no resident doctors, but we share hospital beds with local family doctors, who provide home visits, as necessary.
We have applied this idea to revitalize regional hospitals that were operating in the red and succeeded in rebuilding their management. At the same time, we have demonstrated the social significance of maintaining and continuing to respond to the chronic and terminal care needs of the community. We established this case as the first model of Ishinkan. Since then, we have been opening and operating Ishinkan facilities in line with our business mission to strengthen and revitalize regional healthcare.
Refugees from medical care
The Japanese government is pushing for a shift from hospital-based medical care to community-based medical care to provide medical care more efficiently. However, under this system some people have limited opportunities for receiving care and living comfortably after being discharged from the hospital. These include people with high medical dependency, such as those who cannot be taken off the artificial ventilator, who suffer from neurodegenerative diseases, or who suffer from terminal cancer. When patients no longer require treatment at acute care hospitals, they are deemed to be in stable condition and are encouraged to leave the hospital, but even after that, they need to be cared for 24 hours a day to monitor any sudden changes in their condition. However, in many cases no appropriate place is available to accept them after discharge from hospitals.
The Ishinkan business responds to such pressing needs. Chronic and terminal care requires less input from doctors than acute care. Even if no doctor is in residence, as would be the case at a hospital, necessary medical care can be provided by regular or ad-hoc visits from the family doctor.
By having a nursing system comparable to a hospital ward and working closely with local medical professionals, Ishinkan facilities provide high-quality medical care for people with high medical dependency.
Places that Accept Patients after Discharge from Hospital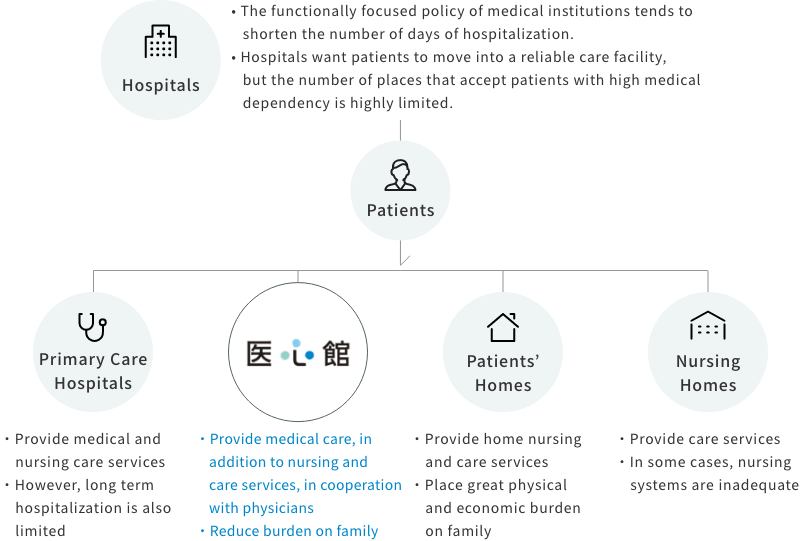 Concept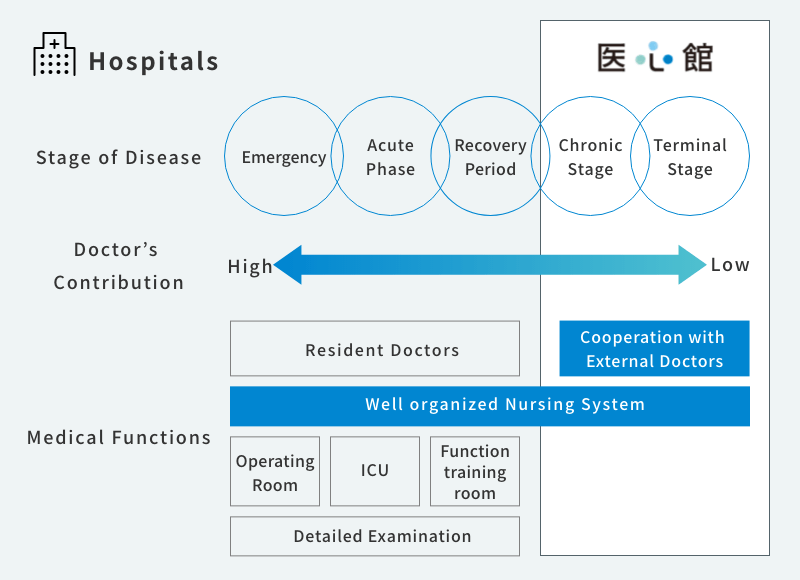 ---
Social significance of Ishinkan
Ishinkan is a social problem solving business that benefits all three parties of patients, local communities, and hospitals/clinics.
Ishinkan is a social problem solving business that benefits all three parties: patients, local communities, and medical professionals.
Ishinkan is a unique healthcare facility based on the concepts of outsourcing physician functions and sharing hospital beds where local doctors and others gather. Ishinkan is also a model that achieves significant cost savings by reducing various functions from hospitals. It can be rolled out flexibly in areas with high needs, including regional areas facing depopulation, and can respond flexibly to region-specific medical needs. As the physician function is outsourced, the opening of Ishinkan facilities does not cause the scattered allocation of physicians; they are integral to the regional medical infrastructure.
By opening and operating Ishinkan facilities, we bring various benefits to local stakeholders. We aim to respond to the needs of people with high medical dependency, help to correct regional disparities in healthcare, and become an indispensable platform for regional medical care.
Ishinkan as a Platform Supporting Regional Medical Care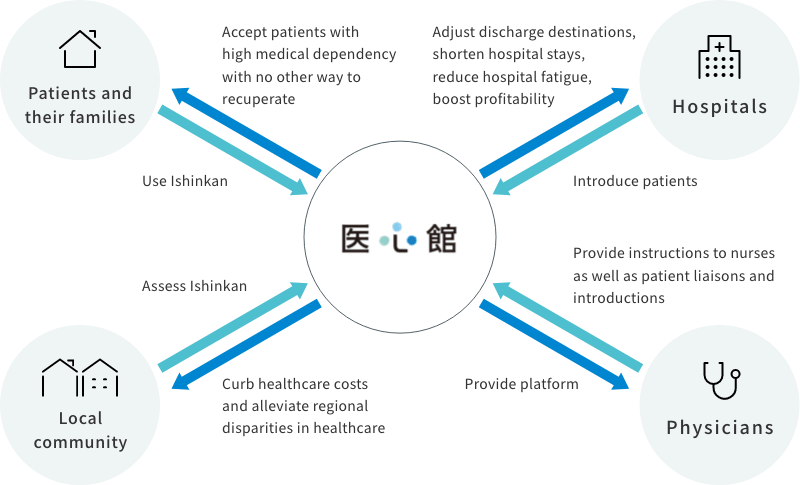 ---
Features of Ishinkan
A new type of medical facility achieved
through the "innovation of mechanism"

Ishinkan is a healthcare facility with a home nursing care office and a home care office. All of these services are regulated by the existing system, and are common at other facilities.

What makes Ishinkan unique are two new concepts: outsourcing physician functions and sharing hospital beds. The idea is to create a new-concept facility while utilizing the existing system. We call this approach the "innovation of mechanism."

To realize our new ideas and improve our services, we have also been strengthening our operations. This has led to trust from outside medical and nursing professionals and collaboration based on that trust.

In-home hospital beds focusing on advanced nursing care

Ishinkan facilities function as in-home hospital beds equipped with a satisfactory nursing system specializing in chronic and terminal care. In addition to assisting with home visits, nurses play a variety of roles: observing physical and mental conditions, measuring vital signs, administering medication, providing medical treatment, conducting oral care, and managing tube feeding. If a patient's condition changes suddenly, nurses notice immediately and respond appropriately. This response is possible because we have nurses with a wealth of medical experience.

The nurses decide whether or not to accept patients. To ensure we can function as a "last resort" for people with high medical dependency, we may refer people who require less medical care to other appropriate facilities.

A place where people can live with peace of mind
while receiving medical care, nursing care, and healthcare

Ishinkan provides a satisfactory care system. Caregivers are responsible for providing physical care and daily living assistance to those who are unable to move their bodies as they wish due to severe chronic diseases or disabilities. A well-developed care system is a big difference from hospital beds that do not have such a system.

In addition, all rooms at Ishinkan facilities are private (except for Nabari I), protecting privacy and allowing patients to continue their own lifestyles. All staff work together to devise ways for patients with high medical dependency to live as they and their families wish. We also function as a hospice and take responsibility for patients until the end of life.